The idea
THE LILIENTHALQUARTIER AT THE RESEARCH AIRPORT BRAUNSCHWEIG
Technological progress and collaborative working go hand in hand. To pave the way for companies from the area of aerospace and mobility, the Volksbank BraWo Projekt GmbH merges with the Strukturförderung Braunschweig GmbH to support the further development of the research airport Braunschweig. The gradually emerging Lilienthalquartier will be characterised by short distances, networked work, room for creativity, innovations and technologies.
The location
RESEARCH AIRPORT BRAUNSCHWEIG
The research airport Braunschweig is one of the most innovative economic- and science clusters in Europe with a high demand for modern office premises. The completion of the Lilienthalhaus and the research car park in 2017/18 are just the start of the development. With the reconstruction of the Lilienthalplatz and the realization of the Lilienthalhaus II, the location will be developed to an innovative, sustainable and modern research district with international standards – the Lilienthalquartier. An ideal infrastructure is ensured by the adjoining drive onto the A2 and the business flight connections.
The project
THE LILIENTHALQUARTIER
In the coming years further office buildings for companies in the aerospace and mobility sector will arise on a total floor area of approximately 14.000 square meters. With the unique architecture and the spatial qualities, not only the user requirements will be considered but also an urbanistic upgrading of this forward-looking location.
Move over the buildings to get more information.
Lilienthalhaus I
Completion after 16 months of construction
office space: 5.100 m²
DGNB "Gold" certified
Lilienthalhaus II
Building application submitted
office space: approximately 7.300 m²
DGNB Pre-certificate in gold
Lilienthalhaus III
In the development phase
office space: approximately 7.700 m²
Lilienthalhaus IV
Research car park
Completed 2018
650 parking spaces
20 e-charging points
Office building
Car park 2
LILIENTHALPLATZ
Completed in 2019

LILIENTHALHAUS II
Development phase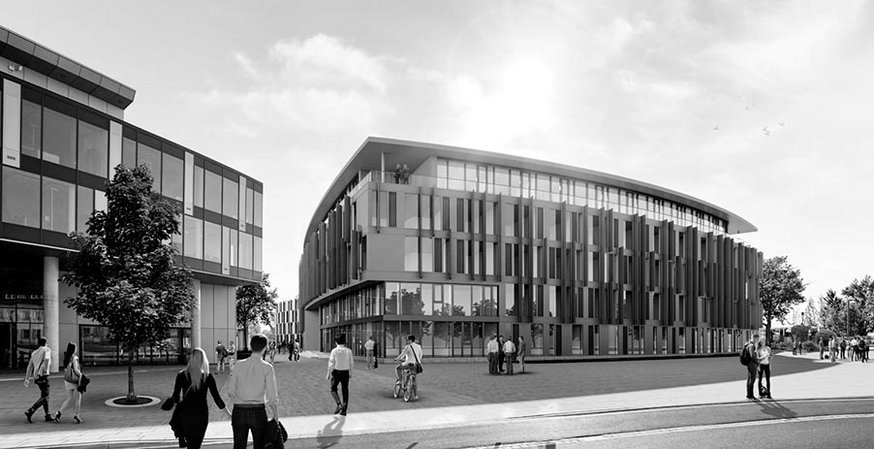 LILIENTHALHAUS III
Development phase
Lilienthalhaus: A place where the future is shaped.